Human Resource Management Made Simple
empowering people with an innovative cloud-based human resource management system.
Experience an end-to-end software solution that integrates human resource management processes from hire to retirement. Control your global HR processes, personalise employee experiences, and simplify HR processes with the complete HRMS in Hyderabad. 
Arbotech Solutions improves employee engagement, manages the employee life cycle, boosts productivity, and much more for an organisation.
Our ERP systems include a full-featured Human Resource Management System that can be used for any type of business operation. The HR Software in an ERP system is packed with automated features to handle all aspects of personnel management, from recruitment and onboarding to payroll and attendance, as well as a slew of other critical operations.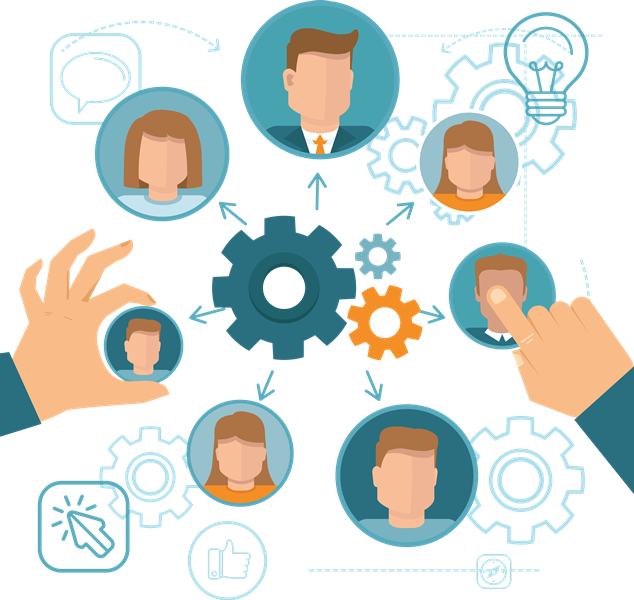 With our HR Software integrated into your ERP system, you can streamline daily operations and spend less time on repetitive, manual tasks. The module includes features such as biometric logins, e-leave management, and e-timesheets that are optimized for automatic payroll computation. ERP software's HR and payroll modules can also be integrated with TMS devices to distribute personnel by project objectives and budgets
 

Allow businesses to replace manual HR processes with AUTOMATED processes.

 

Effective communication can help to bridge the gap between employees and management.

UNIFY all HR processes on a single, customizable, and user-friendly platform.

 Allow users to access MOBILITY-powered functions at any time and from any location.
Important Features Of The HRMS
Integrate the module with online recruitment portals for quick and improved screening
Automate payroll management with custom components, each with user-defined parameters and constraints.
Resource planning and training
Create budgeted resource plans for departments, positions, locations, or projects. Create, manage, and supervise employee training programmes.
Automate the appraisal and employee evaluation processes by using user-defined timelines and parameters.
Timesheet with biometric​
Integrate biometric devices with the module to capture and save employee login and logout information.
e-Leave Management And ESS
Employees should have access to a secure Employee Self Service (ESS) portal where they can access their information and apply for leaves. Allow managers to approve leave requests via email.
Organization Structure And Workflows
Auto-populate your organization, define hierarchies, workflows, and view departments on multiple levels.
The HR module is a one-stop-shop for all of your human resource management needs. It integrates seamlessly with your existing ERP to provide you with a seamless experience.